Tripawds is a user-supported community. Thank you for your support!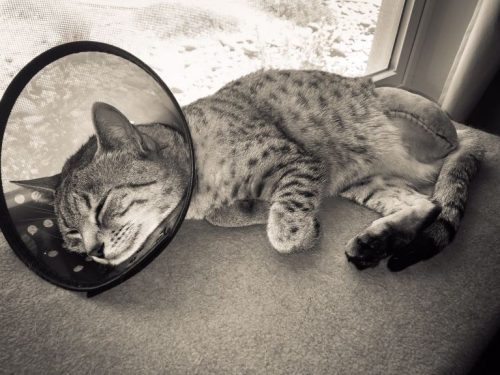 Tia was a little slower this morning, and didn't end up eating all her breakfast.   We had been giving her medicine in her food, but we will now have to give it separately if she won't eat consistently.   I ended up giving her a remaining dose of the first pain medicine around noon to see if that would make her feel a little better (I don't think she got a full dose of the gabapentin this morning due to not eating all of breakfast)
This window cat bed is a favorite of all the cats because we have one of those heated pet bed pads connected to it.    So I put her up on it and she seemed to settle down and relax.  Hopefully the heat will help with sore muscles since I think all the extra effort to get around is starting to take its toll.  I have some pet stairs going to it so she can get down if needed.
I have been keeping the cone on her more often than the recovery suit – I am waiting for the larger sized one to come in.  The Medium size seemed a touch too small and was constricting her joints making her less likely to be mobile in it.   So, if you order one, know they run small, since Tia hit the medium measurements right on the dot.
Since events have slowed down and we are just on the slow slog to getting the stitches out, I may not update the blog quite as often, but I will try and keep everyone posted as to her progress!